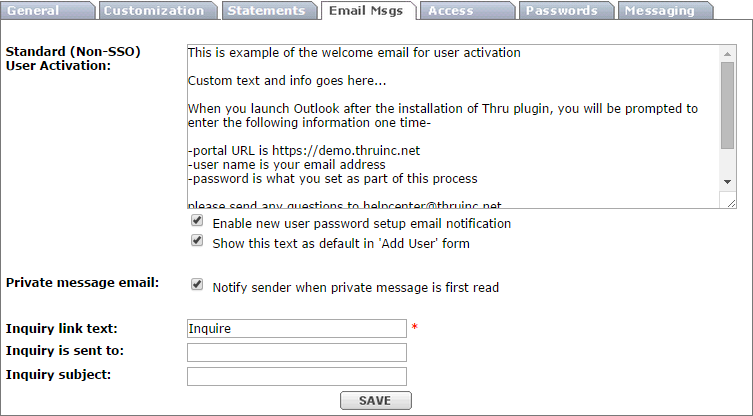 Standard (Non-
SSO

) User Activation
Type a message in this field to display on an email received by a new user to the system
Having the Show this text as default in 'Add User' form option checked will automatically put this text in the Message field when creating a new user.
Private Message Email
When Notify sender when private message if first read is checked, the sender of the message will receive an email notification when the private message that was sent was first read.
Inquiry
Inquiry is a tool that will let the users contact your internal helpdesk with questions and concerns. This link will be displayed when a user is viewing files within the folder. Here you can set up how this link will work by modifying and saving the three options.
Inquiry Link Text
This text will be displayed on the folder view. You can customize this to say anything. The default will say Inquire.
Inquiry is Sent To
Type in the email address where you want the inquiry sent.
Inquiry Subject
Type in what subject that you want to be automatically populated to make it easier to differentiate emails received.
Feedback
Thanks for your feedback.