The OptiFLOW control panel is where you can view all the processes that are set up in OptiFLOW and is also where you can view analytics/alerts/activity stream.
To access the control panel from your Thru site, click the drop-down menu at the top right corner of your profile and select "Thru Controller." This will open up the OptiFLOW control panel interface.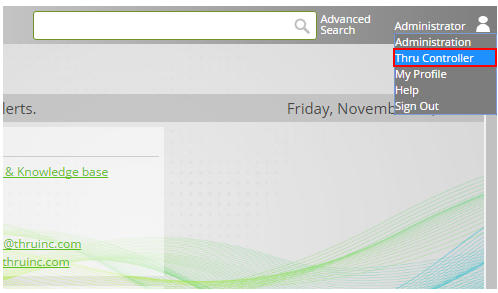 As you can see in the image below, the control panel is divided into sections that show each step of a workflow and includes the menu items on the left-hand side. Below are definitions of some of the key aspects of the OptiFLOW interface: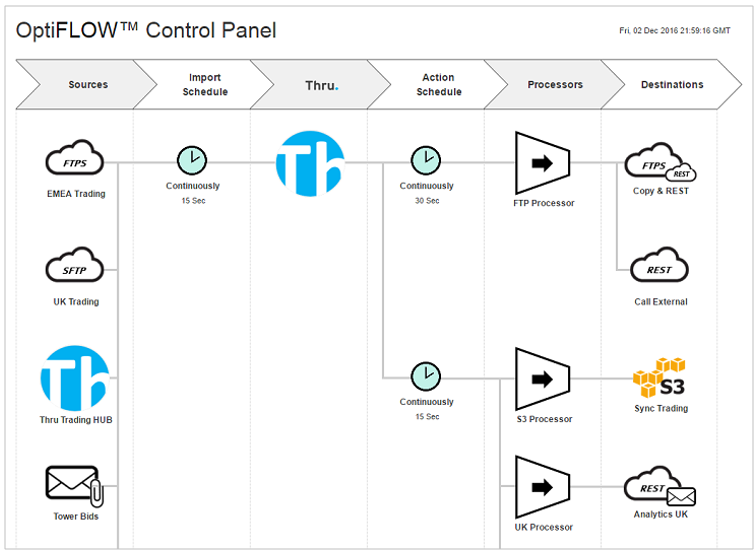 Sources are the external data repositories that you set up that allow OptiFLOW to pull data from on a scheduled basis. The sources you can choose from are: FTPS, SFTP, Thru sites, Amazon S3 and IMAP (Mail attachments).

Processors are the different types of filters and transformations that OptiFLOW can perform on files that are stored in Thru. Some examples of processors are Pass Through, Patterns and Anti-Virus Scan Policy.

Destinations are the different target locations where an action will take place. These targets are FTP, SFTP, Thru sites and Amazon S3.

You can add Mail, SMS and REST call notifications to be performed after actions are completed at destinations. For example, if data is uploaded to Folder A in Thru, OptiFLOW can trigger an email notification to notify specific users of this action.


To edit or create workflow processes, select the pencil icon on the menu.


To view the activities that have been performed in OptiFLOW, select the double arrow icon from the menu. Activities can be filtered by type, status of activity, date of transaction and by keyword searches.


The triangle alert icon on the menu is where you can view visual alerts and administrator notifications.


You can view analytics of OptiFLOW activities by selecting the bar graph icon from the menu. From here you can view the hourly, daily, monthly charts/activity count / and throughput (data movement in MB).


To create/manage OptiFLOW administrators, select the Admin icon. Users added to this admin list will be sent notifications and can create/edit workflows.


To access General Settings, select the gear icon from the menu. In Settings you can configure Mail and SMS alerts to be sent to OptiFLOW administrators if process failures occur.
Feedback
Thanks for your feedback.