To securely receive large files from non-registered users, users can create a link to their Thru Dropbox™. This lets non-Thru users securely send mail directly into a user's My Dropbox folder.
The URL link format is: https://companyname.thruinc.net/Desktop/Dropbox/Create/?toemail=name@companyname.com
To create a link, substitute the "companyname" text and the email text, "name@companyname.com" shown in the link format above with your company's name and the user's email address. Below is an example. We replaced "companyname" with demo and replaced the email address with name@abctechnology.com.
Example: https://demo.thruinc.net/Desktop/Dropbox/Create/?toemail=name@abctechnology.com
Once you have created your link, you can send it to anyone via email, company websites and portals, etc. When anyone clicks on the Dropbox link, it will take them to a file upload form where they follow the steps to send the user their files.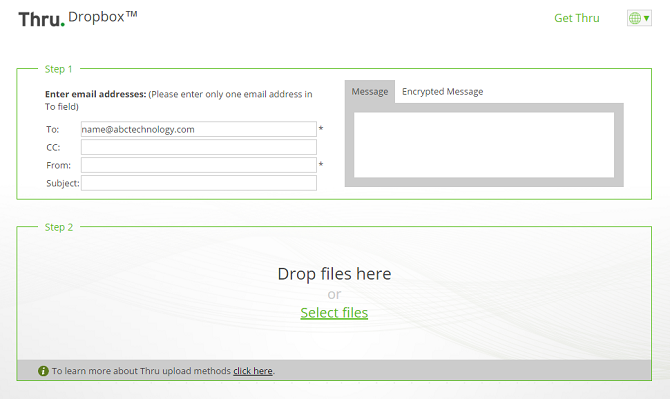 To learn how to add a Dropbox link to a Microsoft Outlook email signature, go to Adding Dropbox Links to Outlook Email Signatures
Feedback
Thanks for your feedback.