Thru offers three types of upload methods: ActiveX, Java, and Browser when using Internet Explorer 11.

The following table describes the different features for each method.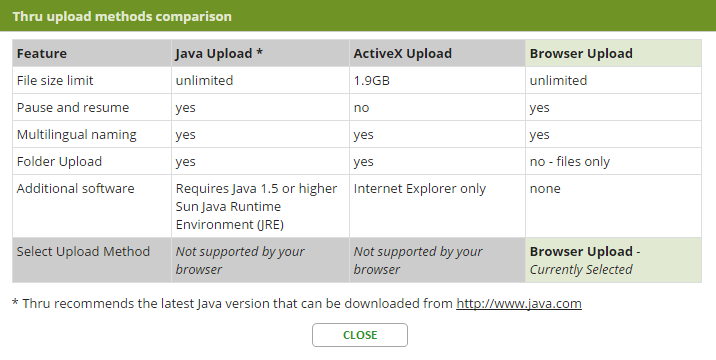 Power Upload (ActiveX/Java)
Power Upload refers to using the ActiveX upload or Java upload. This method offers significant improvement for upload speed in addition to those features mentioned in the table above.
Upload speeds are known to be 2 times faster or better depending on your network connection.
The first time you use the Power Upload component, you may be asked to install software in the browser.
A message will appear under the address bar. Click on the message, select Install ActiveX and follow the on-screen prompts.

Browser Upload
Browser Upload can be used with any browser and is the default option selected when you are using any browser other than Internet Explorer.
If your browser supports HTML 5, you will see the upload widget below.

Feedback
Thanks for your feedback.