To move files or folders within Thru Web, use the Clipboard tool. To move a file or folder: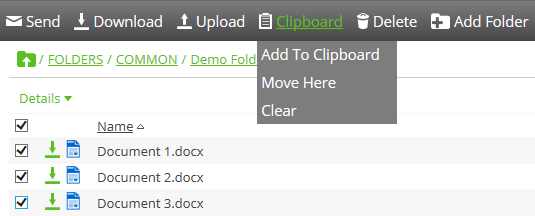 1. Navigate to the folder where the file or folder that you want to move is located.
2. Select the checkbox next to the files and/or folders.
3. Click on Clipboard and select Add to Clipboard.
4. Navigate to the folder where you wish to move the selected items.
5. Select the Clipboard drop down menu.
6. Select Move Here. This will move the file from the original folder to the folder in which you currently you are.
You can cancel the move of the folders or files by selecting Clear from the Clipboard menu. This will place the file back in its original location and remove it from the clipboard.
Feedback
Thanks for your feedback.