This section shows you how to access files that were sent to you via a registered download link. Follow the steps below to get started:
After clicking the download link, you will be taken to the Secure Message Login page asking you to register a new user account or to log in with a previously registered user account.
Registered Users – If your email address is already registered or you have a registered Thru account, fill in your Email Address and Password and select Access Secure Message to access your files.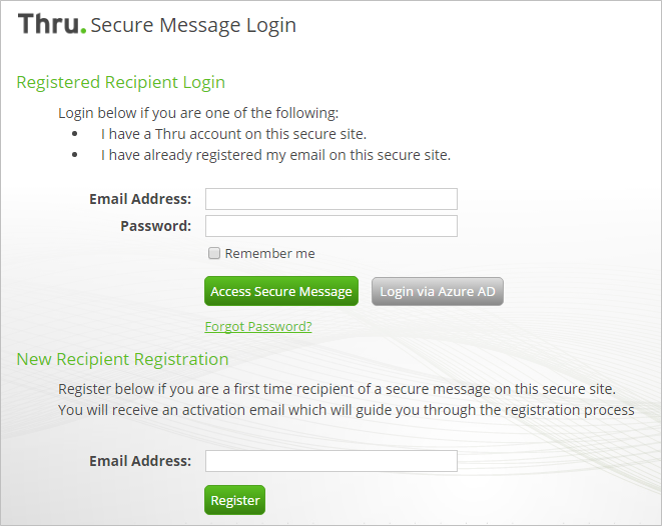 First time users – If this is the first time you are downloading files from a sender using the Thru secure file delivery service, use the New Recipient Registration option. Fill in your email address in the email field and select Register. You will then receive an email from notifications@thruinc.net that will guide you through the registration process. The email address you enter must match the one in the email you received. Otherwise you will see an error "

Registration cannot proceed because this Email Address is not the intended recipient of the secure message. If you believe you are the intended recipient please enter the correct Email Address.

"
What can go wrong at this point?

The most common issue is that people don't receive or don't find the registration process email.
Did you look in your Junk email folder?
Does your company use an email security gateway that may have trapped the delivery from thruinc.net? They need to allow/trust email from notifications@thruinc.net.
Do you have email filtering rules that might have saved the email in an unexpected folder?

After filling out the registration information, you will be directed to a web page to download your files.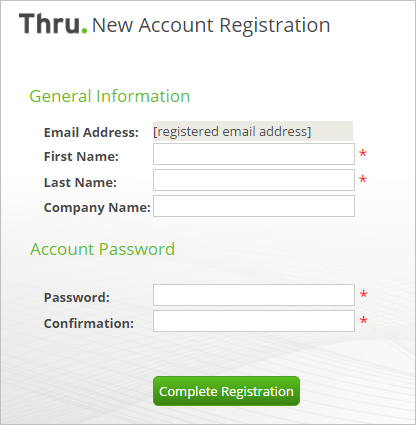 If you need to reset your password, you can use the Forgot Password link on the Secure Message Login page to reset the password. An email will be generated and delivered by notifications@thruinc.net with instructions on resetting the password.
A valid registered email address must be entered. If you enter an email that is not registered, the system will not tell the user that the email does not exist for security reasons, and the reset password may seem to have been processed correctly. In this case, no reset password email will be delivered.
Feedback
Thanks for your feedback.