• Implemented Pause and Resume operations in Sync.
• Auto Recovery processing improvements:
o Auto recovery state is saved on application exit and is restored on application restart, reduces the recovery time.
o Auto Recovery is run in the background.
o Auto Recovery re-downloads only required files/folders from the server. Detailed messages are displayed.
o In case of Auto-recovery, an archive with the log files is created. File name: Thru_Sync_Logs__Z.zip. Location: folder Thru Sync Logs on the desktop.
• New behavior on Disconnect: files are preserved, detailed warnings are displayed.
• Help Center email address can be configured in Sync config file.
• Reporting a problem to Thru Support, the following dialog box is displayed and archive Thru_Sync_Logs__Z.zip is created in the folder Thru Sync Logs on the desktop.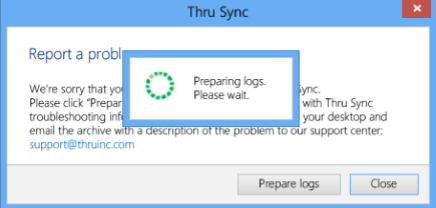 • Improved behavior in exception scenarios where sync cannot be performed, detailed messages.
• Data transfer optimizations.
Feedback
Thanks for your feedback.